Hei,
I will be reviweing T3 Mycin Gel, Oxy 5 Benzoyl Peroxide 5% and Hiruscar Gel. But before let me start with my skin condition and the history of my acne adventures :)
Skin Type:
Combination skin. Forehead and nose areas are oily, but cheeks are quite dry. Chin area is somewhat normal.
Where are the most acne breakouts?
My nose, especially the sides. My forehead, near my hair. And lastly my on the contour of my lips (This is the recent trend of my acnes, they began to like the skin around my mouth :) )
What have I used / tried before?
6 years ago, I had really bad cystic acnes. I used
Roaccutane (isotretinoin)
30 mg daily for 6 months. Besides all of its side effects (Excessive drying, cracked mouth and skin, depression, swell on my face),
it cleared up
all the nodules, dried my oily skin areas to the normal levels, it even cleared chronic folluculitis on my hair scalp that nothing could treat by that time. Unfortunately, within two years
mild
acnes came back. I used another 20mg Roaccutane regimen in 2010. It helped for acnes and chronic folluculitis on my hair scalp again. But this time return of new acnes took shorter time. In following year, very mild acnes came back. And This year, 2012, I had my first cystic acne after 6 years :)
* * *
T3 Mycin Clindamycin Gel 1%
I was recommended to use this topical antibiotic for acnes by the doctor in my university's health clinic. First the doctor prescribed me antibiotic pills, but I refused to use as I do not like taking antibiotics. I asked if there is an alternative to that medicine. The doctor advised that I could use topical antibiotic, which will affect only applied areas. So the doctor prescribed me Mycin Clindamycin Gel.
Mycin Gel contains
Clindamycin phosphate
as active ingredient.It is for the
topical treatment
of acne vulgaris.
It should be
applied a thin film to the affected area after washing. Twice daily, especially before sleep.
My experience:

I'm already using the second tube! Does it say everything? :)
When I use it,
I do not get any breakouts at where I apply.
Sometimes (like once in a month) very light and small zit like swell appears though, but when I apply, it fades away before it develops into a pimple.
It even diminishes nodules (harder acnes) quickly.

Neither it dried my skin, nor irritated
, like oxy 5 benzoyl peroxide did.
Cons :
You have to use it continuously to get the benefit of this product. Because when I stopped using it, pimples came back.
It is a temporary solution
, but as pharmacist told me, there is no harm in using it everyday. I have been using it since 3 months, day and night, yet havent experienced any problem so far.
I also do not think mycin gel could treat cystic acnes. It was effective on light nodular acne though.
** UPDATE in my 6th month with this product : I have made some research about topical acne treatment ingredients in academic articles and I have found that temporary effect is because acne bacteria develops resistance against clindamycin therefore dermatologists recommend two solution to prevent it:
Mix it with low solution Benzoyl Peroxide

Stop using clindamycin for a while (a week for instance) and use the Benzoyl Peroxide in the same areas for that period. And after re-start using clindamycin on and off with Benzoyl Peroxide interchangeably
I definitely tried both ways and I saw the benefits. now I can still use Mycin Gel because it still works after applying in above mentioned ways! :)
Where to buy?
I got it from Guardian in KLCC. It costs 26 RM. One tube lasts long, like two months.
* * *
Oxy 5 Benzoyl Peroxide 5% Regular Strength
I used this product before buying Mycin Gel. It contains 5% benzoyl Peroxide, claiming to kill acne bacteria, dry up excessive oil and unclog pores.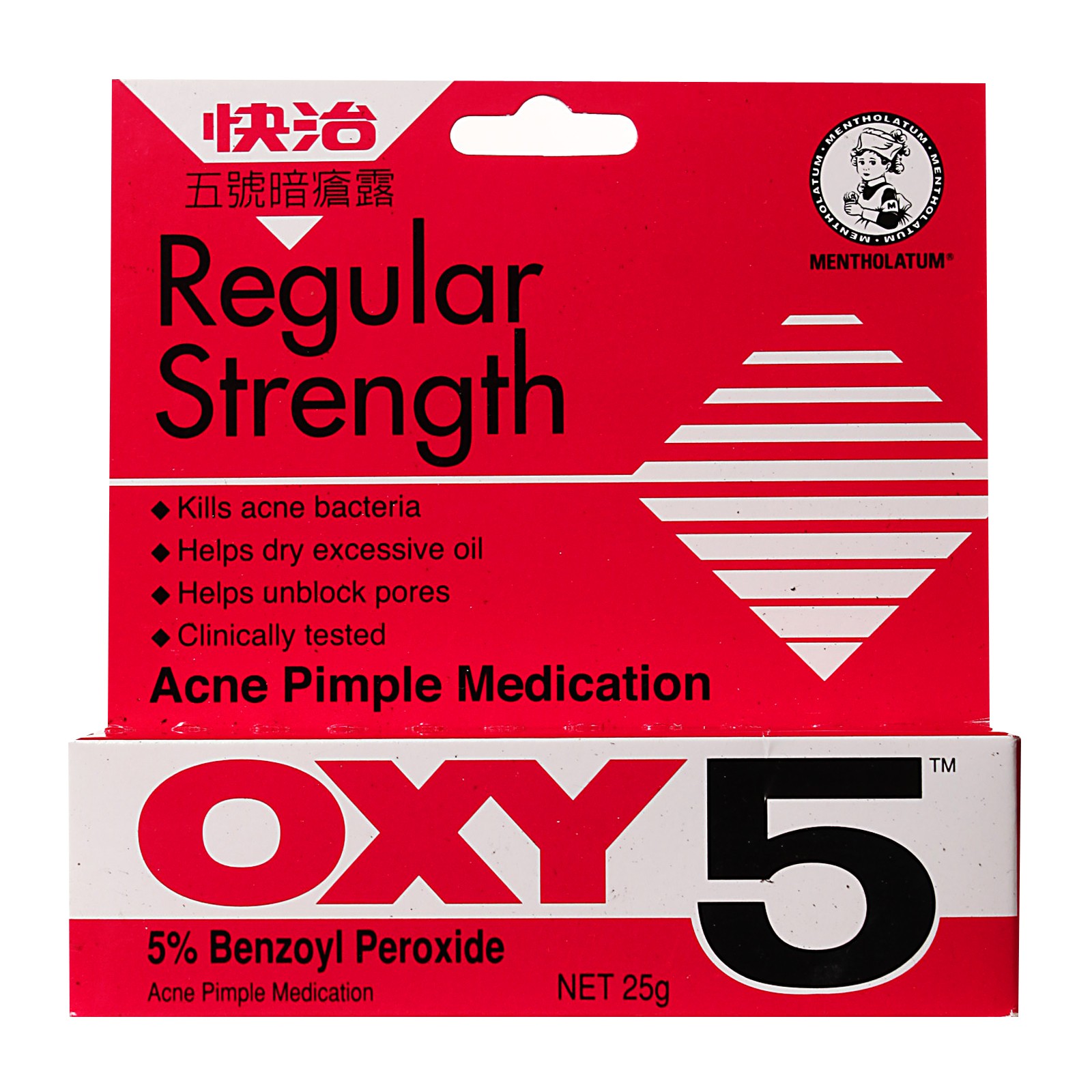 My experience:
I used it once in a day before sleep, for the first week. I was supposed to apply twice in a day for the next week, as it is recommended on the product. However it terribly
irritated and burnt
my
sensitive skin
in the first week, so I stopped. My skin (the burnt parts) peeled off after sometime.
Yes it did dried my oily zones, where I applied around my nose. I noticed that I didn't wake up with oily nose, yet it was dry in spite of non air-conditioned room that I stay in. It also cleared up the acne's that were resistant against long usage of t3 mycin clyndamycin gel.
However my skin turned back to the normal as I stopped using it. You also need to use long (at least 7 days) to see any effect. To sum up, it is simply
too harsh
for my skin, and no-no product for me. I wouldn't use it again
alone
(I have read in a dermatology magazine that mixing benzoyl peroxide with other acne treatment products such as clyndamycin, erythromycin or tetracycline increases the effect of killing acne vulgaris bacteria)
However, I'm planning to buy a lighter strenght if available, and use it 2 times in a week, just to control excessive sebum on t-zone and prevent acne bacteria resistance.
Where to buy?
It is available in Watsons and Guardian. It costs around 8-9 RM.
* * *
Hiruscar Gel
Hiruscar Gel is a swiss product and its active ingredient is Allium Cepa. Its difference from
Mederma Gel
is that it also contains MPS which penetrates deep into the skin to regulate the re-generation of collagen to smoothen and soften scar tissue.
If you google about
Allium Cepa
, you will find out that it is actually "
onion
" :) I have always heard from my grandparents that they used to boil onion and use its water to their skin for scars... Apparently this expensive Swiss product uses the same old skincare.
My Experience:
I bought this gel to prevent scarring after pimples fade. I'm actually a bit undecided whether it really improved my acne scars or not.
I have noticed that it makes my skin to
renew itself in shorter time.
When I did not use hiruscar in one pimple which was about the same size, it took much longer time for redness to fade away. My skin feels
soft
, and I can notice it evens the skintone as well. I havent seen noticeable improvements on my old acne scars, but also take note that for old scars it has to be applied about 6 months as I was told by the pharmacist.
Overall, It is not miraculous but
so-so good.
Even allium cepa doesn't work, aloe vera is always good for the skin. My only concern is its price, for only 5g tube it costs 17,80 RM. I wouldnt buy again due to its price.
Where to buy?
It is available in Watsons and Guardian. It costs 17.80 RM. Sometimes get as cheap as 14,80 RM in promotion times.
* * *
I hope this review helped others. Let me hear your opinions :)